ProductContent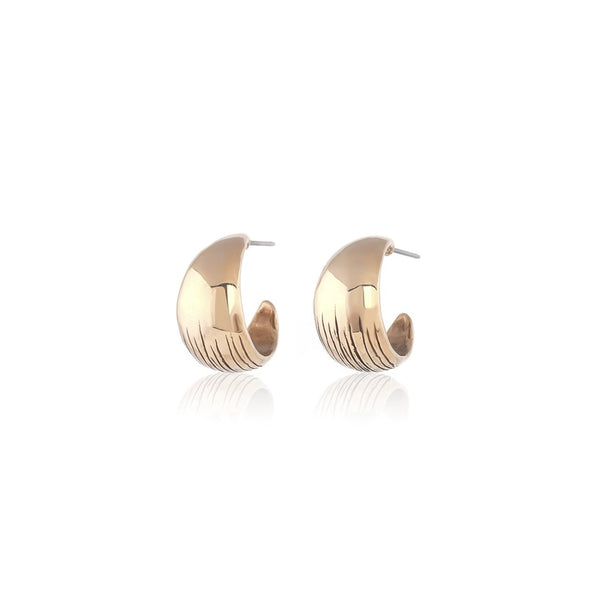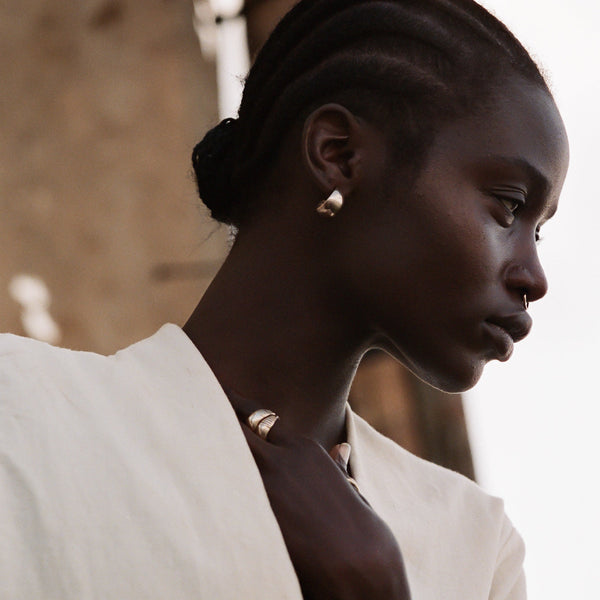 Narah Hoops
CHF 112.00
You Save:

CHF -112.00

(100%)
Narah Hoops
CHF 112.00
You Save:

CHF -112.00

(100%)
Product Description
Description
'A healthy woman is much like a wolf' Clarissa Pinkola Estés
Scottish for Queen of Wolves, Narah calls us to honor our wild grace remembering the beauty that is carried by trusting our intuition. A striking, rustic and timeless midsize classic hoop, the smooth front morphs into raw carved lines, like the claws of the wolf through the earth.
DETAILS
   - Available in bronze, sterling silver, or 10k gold
   - Diameter | .75" | 2cm
   - Weight | 6 grams (individual)
Choose Your Metal
Bronze | Metal of the Ancients
We love bronze for its ancient origins and history in jewelry and adornment. People have been using bronze for jewelry for thousands of years. It is known to enhance generosity and good spirit, prosperity, compassion and a love for beauty. Bronze is a beautiful sturdy metal, making it great for everyday wear, especially for those of us who live a more rough and wild lifestyle.
Silver | Metal of the Moon
Silver is the Lunar metal - connecting us to the energies of the moon. It is known to enhance the inner wisdom and intuitive knowing of the wearer. For more practical purposes, sterling silver is a great option if you have more sensitive skin and want a higher quality & low maintenance metal, or if you just like the look of silver. 
Gold | Stardust
Gold is literally stardust... forged in the explosions of supernovas or colliding neutron stars. It travelled to earth on meteors and debris millions of years ago and has hidden within our lands ever since. Because of this it is a finite precious metal. 10k or 14k Gold is a great option for a more active lifestyle because it is stronger and scratches and bends less than 18k or 24k gold. Gold is a precious metal that should be cared for to maintain its value and beauty.
Customer Reviews
Write a Review
Ask a Question
12/20/2021
Daisy R.

United States
In love
I absolutely love this earrings.
12/09/2021
Brittany T.

United States
Perfect hops
I've been looking for a hoop in this shape for ages. These are beautiful - they feel substantial but not too heavy. I love the etching on the bottom half (although just a hint is visible when worn). Adorning with things that are intentionally made can shift your energy and the experience is completely joyful.
08/04/2021
Sarah S.

United States
Marsh hoops
Love love love!!!
07/27/2021
Abbey K.

United States
Stunning!!
I love wearing these hoops. They are simple yet stunning. Love the mission of catori and will be ordering more pieces from them for sure.
07/15/2021
Selen M.

Australia
Lovely
Lovely hoops, comfortable despite their weight, nice form and texture, love it!
06/24/2021
Angela

United States
Another perfect Catori Life creation!
Let me start off by saying, I own a cuff bracelet, the Padma ear cuffs, the Narah hoops, the lapis necklace, the inara necklace and akash ring. So, to say I love Catori jewelry is an understatement. How I feel when I wear it though, it hard to put into words. It is so beautiful and special. I met with a friend for dinner wearing much of this with my new Narah hoops. She looked at me and said the jewelry looked "exquisite" and that I looked incredibly "adorned" in precious metal. This jewelry is top-notch quality but it truly is just incredibly beautiful. I felt adorned. The Narah hoops were the cherry on top, I am so happy with them, they aren't too heavy and are the perfect size. They are gorgeous with the Padma ear cuffs.
06/09/2021
Camille N.

United States
Love these earrings!!!
These are the best ever.
05/30/2021
Nicolette W.

United States
Beautiful
These hoops are so beautifully made! The style is timeless. I love wearing them to complete any look!
04/26/2021
Mefuza A.

United States
Lovely!
Narah sparkles. They are just the right weight for everyday use and can dress up an outfit nicely.
04/13/2021
Charlotte C.

United States
Love
I didn't know what to expect in terms of size when I ordered these - but I went for them anyway! I was worried they would be a bit too big but they are the perfect size and shape! A beautiful chunky hoop. This is my first earring purchase from Catori and I plan to buy more! (I have rings and necklaces which I love)