ProductContent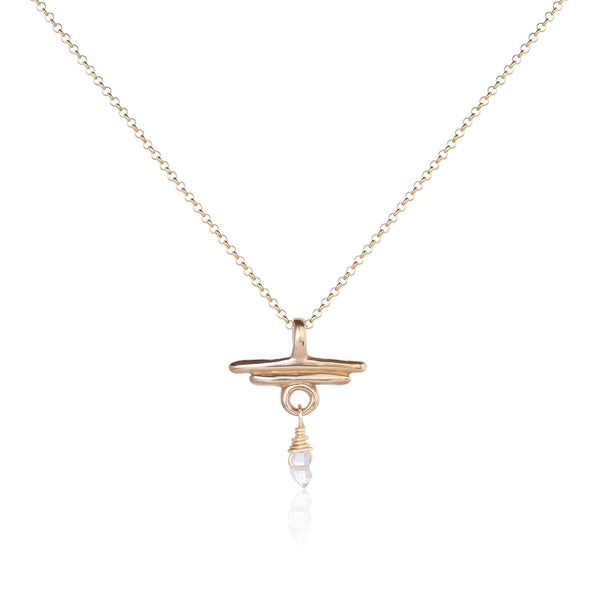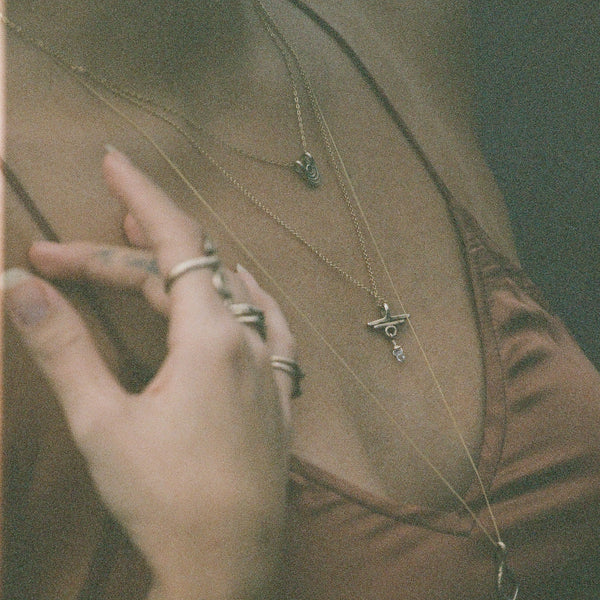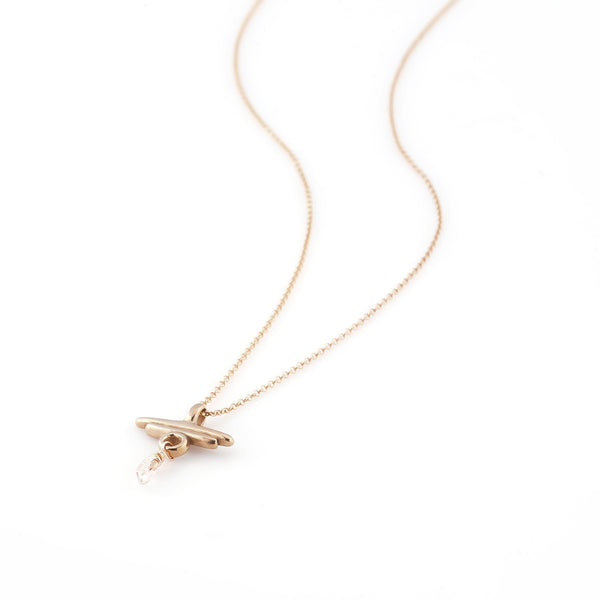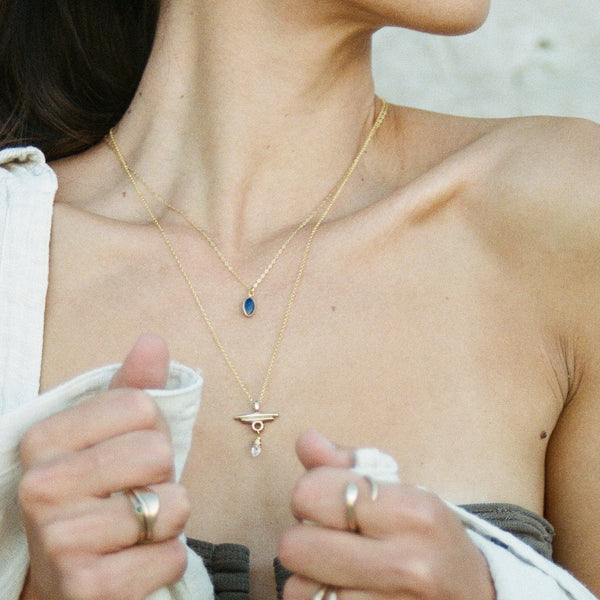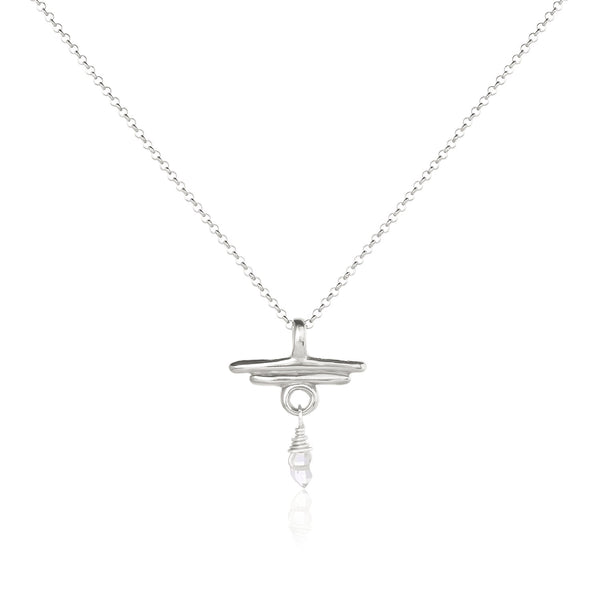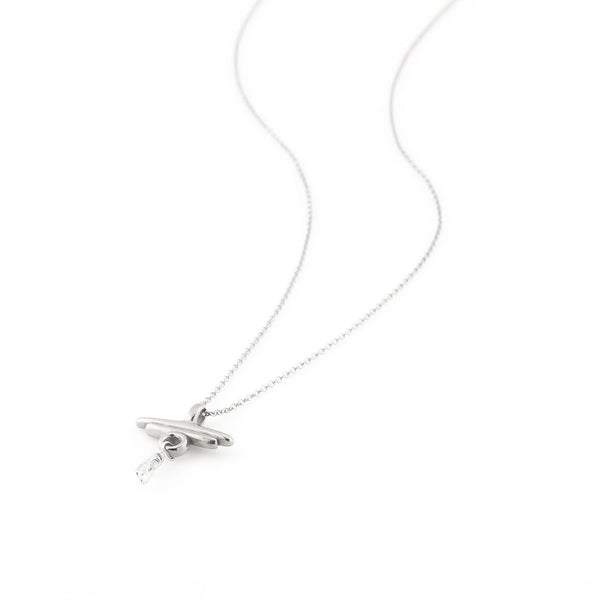 Temple Necklace
CHF 123.00
You Save:

CHF -123.00

(100%)
Temple Necklace
CHF 123.00
You Save:

CHF -123.00

(100%)
Product Description
Description
 "Your body is a temple of the Holy Spirit within you"
Reminding us of the sacred space we all carry within, the Temple Necklace is a personal talisman for self care, belief and worthiness. 
Inspired by devotional spaces found throughout the world, this striking pendant combines universal symbols of spiritual journeying. Carrying the magic of the circle, the steps to enlightenment and an alchemical stone, it points in the four directions bringing the equilibrium of the elements, the seasons and the cosmos.
Accented with a raw Herkimer Diamond, the Temple Necklace is supported by the balancing qualities of this special stone, which is known to protect against negativity and amplify our own spiritual energy.
A beguiling statement piece, wear this necklace to honor your body temple.
 DETAILS 
   - Bronze pendant on 22k Gold Vermeil or Sterling Silver chain 
   - Chain Length | Adjustable 16" - 22" 
   - Stone | Herkimer Diamond
   - Please note: stones are natural and vary slightly in size
Choose Your Metal
Bronze | Metal of the Ancients
We love bronze for its ancient origins and history in jewelry and adornment. People have been using bronze for jewelry for thousands of years. It is known to enhance generosity and good spirit, prosperity, compassion and a love for beauty. Bronze is a beautiful sturdy metal, making it great for everyday wear, especially for those of us who live a more rough and wild lifestyle.
Silver | Metal of the Moon
Silver is the Lunar metal - connecting us to the energies of the moon. It is known to enhance the inner wisdom and intuitive knowing of the wearer. For more practical purposes, sterling silver is a great option if you have more sensitive skin and want a higher quality & low maintenance metal, or if you just like the look of silver. 
Gold | Stardust
Gold is literally stardust... forged in the explosions of supernovas or colliding neutron stars. It travelled to earth on meteors and debris millions of years ago and has hidden within our lands ever since. Because of this it is a finite precious metal. 10k or 14k Gold is a great option for a more active lifestyle because it is stronger and scratches and bends less than 18k or 24k gold. Gold is a precious metal that should be cared for to maintain its value and beauty.
Customer Reviews
94
reviewers would recommend this product
Write a Review
Ask a Question
02/01/2021
Mami Y.

Japan
Beautiful necklace
I wear this necklace every day. Beautiful and powerful. And it's very good that you can adjust the length of the chain! The rings and earrings are also very good. I'm so happy!! Arigato:)
03/04/2023
Laura P.

United States
I recommend this product
Subtle but Powerful
The temple necklace became an instant comfort piece in my collection, being at once delicate yet bold. I feel grounded and beautiful wearing it. It's dainty and understated, but it catches the eye with its unique, organic form. It's pretty by itself as an everyday statement or layered with other chains. The bronze mingles well with gold vermeil, as does the quartz crystal, so it pairs well with most other jewelry and accessories. It's a gorgeous design that holds a lot of meaning.