ProductContent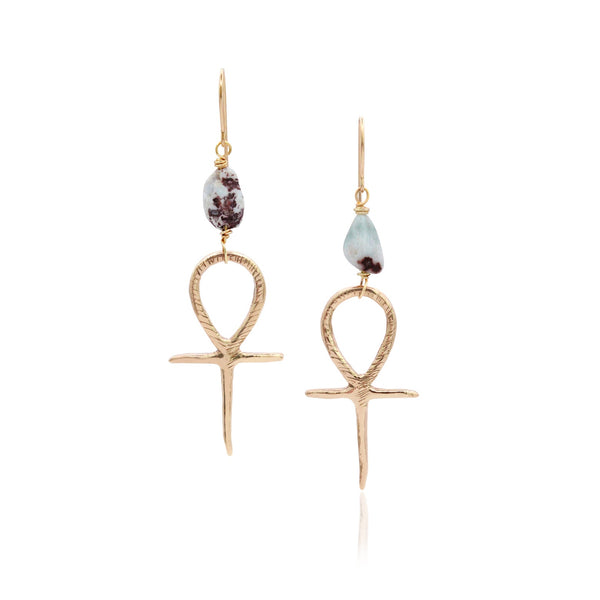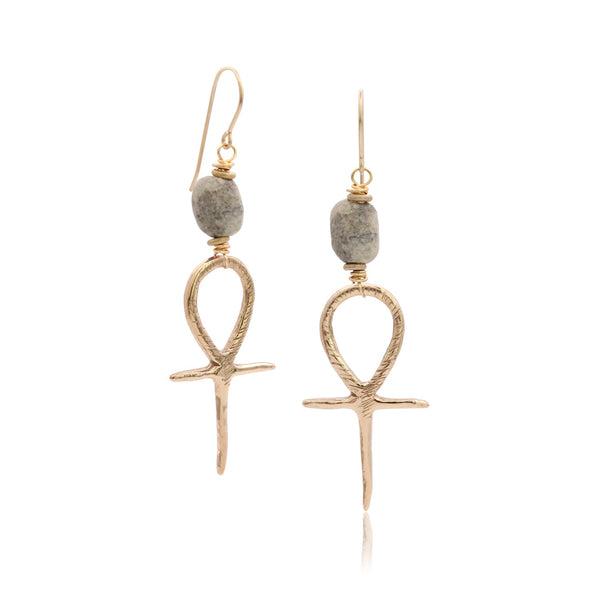 Ankh Earrings
$ 128.00
You Save:

$ -128.00

(100%)
Ankh Earrings
$ 128.00
You Save:

$ -128.00

(100%)
Product Description
Description
Ankh | Breath of Life | Knowing the divinity of self and in relation to all. 

May we understand the connectedness pulsing throughout the cosmos. 
This amulet was revered in ancient Egypt and maintains its magic and sacredness to this day. I designed these earrings as an offering to those walking the path in reverence of the sacred breath and life ways of beauty. 
To honor the origins of the Ankh, which has been traditionally forged in golden tones representing light energy, we only offer this amulet in either bronze or gold. We do not offer this amulet in silver. 
Our stone selection changes seasonally and please note there are variations in our natural stones. Currently, these earrings are available with African Opal and Black Tourmaline.
AFRICAN OPAL | African Opal will elevate any look & add an element of ritualistic beauty intended to empower and awaken your inspired & authentic nature. Opal is a stone of creativity, freedom & independence. It assists to enhance our mystic nature and strengthens intuition, releases anger, and helps us reclaims our sense of self-worth. 
BLACK TOURMALINE |  This is the stone of ancient magicians and priestesses. It is a very supportive and protective stone that will cleanse, purify and transform dense and negative energy into a lighter vibration. It can protect and clear while at the same time grounding us and connecting human energy to earth energy, helping to align and balance our energy centers. It is known to facilitate a sense of power, clarity, and self-confidence and is especially empowering for those working or living in challenging environments or working in ritualistic or ceremonial spaces.  It is also helpful in cleansing spaces and energetic residues left behind by other people. 
LARIMAR | Larimar promotes inner peace and tranquility, easing stress and anxiety. Emotionally, it aids in healing past traumas and encourages self-expression and acceptance. Larimar enhances spiritual connection, opening the throat and third eye chakras for clear communication and intuition. Known for its healing properties, it supports physical well-being, helping with stress-related ailments and promoting balance. Embracing the divine feminine energy, Larimar nurtures love, compassion, and self-care.
DETAILS 
   - Bronze earrings on 18k Gold Fill hooks
   - Accented with raw Black Tourmaline, African Opal or Larimar
   - Length | 2.5"-2.75" | 6.4-7 cm
   - Weight | 3.5 grams (individual)